General information
Date and Venue
June 16th – 18th, 2016
Hospital de Bellvitge
Feixa Llarga, s/n
08907 L'Hospitalet de Llobregat, Barcelona. Spain.
Congress Language
The congress will be held in English. All presentations will be in English.
Requirements and conditions to travel to Spain
The Ministry of Foreign Affairs and Cooperation prompts through the following links and documentation requirements necessary for their visit to Spain.
The entry into Spanish territory of citizens of the European Union shall be made with passport or valid identity document in force and stating the holder's nationality. More info…
The foreigner who wishes to enter Spanish territory must do so through the posts provided for this purpose, provided with the passport or travel document in force to prove their identity, deemed valid for this purpose under international agreements signed by Spain and not be subject to specific prohibitions. The travel document must be valid for at least three months after the intended date of departure from the Schengen area and must have been issued within the previous ten years from the date of entry. More info…
Letter of Invitation
Upon request, a letter of invitation will be sent to any registered participants. This letter will be sent solely to assist participants in obtaining leave from their institutions.
Name Badges
Name badges must be worn to enter scientific sessions, exhibition areas and all social activities by each participant, accompanying person and industry representative. It is mandatory to show
Certificate of Participation
Certificate of participation will be given to the all registered participants of the congress at the final day of the congress.
Registration and control access will be performed through a RFiD system
Exhibition
A large area has been set aside for the exhibition of the pharmaceutical and medical companies as well as book publishers. Please contact with the organizing secretariat for exhibition opportunities. Congress registration is a must in order to visit the exhibition area.
GUIDE
1.- USEFUL INFORMATION ABOUT BARCELONA
• Customs
• Climate
• Addresses of interest
• Useful telephone numbers
2.- HOW TO GET THERE
• Plane
• Train
• Car
3.- GETTING AROUND THE CITY
• Metro, FGC and Tram
• Bus
• Getting around by bike
• Getting around by taxi
4.- TOURIST INFORMATION POINTS
• Plaça de Catalunya
• Plaça Sant Jaume
5.- ACCESIBLE BARCELONA
• Welcome to Turisme de Barcelona's website for disabled people
6.- MOBILE APPS
________________________________________
1.- USEFUL INFORMATION ABOUT BARCELONA
Will the weather be fine in Barcelona? Will people understand what I'm saying? Take a look at the practical and useful information below and you'll find the answer to some of the most frequently asked questions before you pack your case.
• CUSTOMS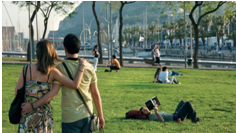 In Barcelona, and throughout Catalonia, there are two official languages: Catalan, the language of the Catalans, and Spanish, the official language of Spain and there are more and more people in the region who understand and speak English. You're sure to get by.
As in most European countries and also in Catalonia, GMT is the time system used in Barcelona. Clocks are one hour ahead of GMT in winter and two in summer and are adjusted twice a year, going forward one hour in winter and back an hour in summer.
Spain is in the Eurozone and the euro is its official currency. Foreign currency can be exchanged at savings banks, or 'Caixes' (the opening hours are Monday to Friday, 8.30am to 2pm. Thursday afternoons, 4.30pm to 7.45pm, except June to September) and banks (Monday to Friday, 8.30am to 2pm and Saturday, 8.30am to 1pm, except summer). Bureaux de change also open every day in Barcelona city centre, and at the main railway stations and the Estació del Nord bus station and at the Airport, where they have longer opening hours.
The working day in Barcelona usually begins at 8 or 9 in the morning and ends around 6 or 7 in the evening, with a one- or two-hour break for lunch at 2pm. This is the daily life and routine that befits the Catalans' reputation in the rest of Spain as a hard-working and thrifty people.
Lunch and dinner are usually eaten a little later than in the rest of Europe. Most restaurants open from 1pm to 4pm, and from 8pm until 11pm. Tipping isn't obligatory, but people usually leave 5% if they are satisfied with the service.
Shops have long opening hours, from 10am to 2pm and from 4.30 to 8 or 8.30pm. In Barcelona city centre, most shops don't close at lunchtime and large shopping centres and department stores open until 10pm in summer.
With regard to prices, Barcelona features a wide range of accommodation, shops and services to suit all pockets.
Here are some approximate prices in Barcelona: a single public transport ticket costs 2.15€, an espresso coffee between 1 and 1.50€; a lunchtime set menu can cost between 8 and 15€, a cinema ticket 10€; a sandwich 3 to 4€, and a newspaper about 1.30€. Smoking is prohibited in all bars and restaurants in Barcelona.
• CLIMATE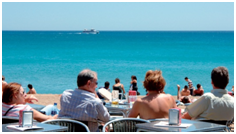 The Mediterranean sea breezes mean that Barcelona enjoys pleasant weather. Find out for yourself and check the forecast! See more here
• ADDRESSES OF INTEREST
Here you'll find links, lists of addresses and other information that will help you to organise your trip to Barcelona.
Barcelona is working to achieve accessibility for disabled people with one main objective: to create a cohesive city which will favour quality of life and respect for diversity. Between us all, we build a better Barcelona, in search of freedom, autonomy and facilities so that the most characteristic places and public transport are accessible and the city can be enjoyed by disabled people. More information
• USEFUL TELEPHONE NUMBERS
The main telephone numbers for any eventuality or emergency. Help is just a phone call away.
More information
Consulats » More information
CPTC » More information
OET's » More information
Turisme jove » More information
2.- HOW TO GET THERE
By plane, car or train… even by boat! You can get to Barcelona by any means of transport. Here's some information about all the available options to help you decide which type of transport suits you best.
Plane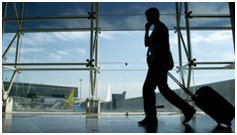 Barcelona airport, with several terminals, is located 16 kilometres south of the city and is also known as Barcelona-El Prat. Barcelona can also be reached by transport links from other regional airports, including Girona, Reus and Lleida -Alguaire.
Train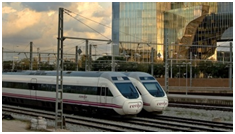 Barcelona has direct railway links with a number of important cities, including Paris, Zurich and Milan, and the high-speed train runs to Madrid, southern and eastern Spain. The city's major railway stations and metropolitan rail network ensure you can travel to Barcelona and anywhere by train without any difficulties.
Car
Barcelona is well connected and has a large amount of car parks. The motorway and road network will take you anywhere in the city by car although it's worth bearing in mind that traffic can be heavy at the main entry points of Barcelona during rush hour.
3.- GETTING AROUND THE CITY
Barcelona and its metropolitan area have a wide range of public transport and sightseeing transport options. There are different ticket types so that you can get to where you want to go in Barcelona easily and conveniently.
Metro, FGC and Tram
Public transport such as the metro, tram and FGC are the quickest, simplest and most convenient way of getting around Barcelona. You can choose from the different ticket types and travel cards.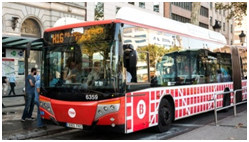 Bus
A fleet of over 1,000 fully adapted buses serve all areas of Barcelona. The integrated fare system means that travel cards can be used on the metro, trams, FGC and Renfe trains (zone 1)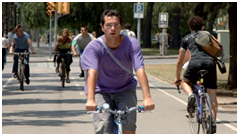 Getting around by bike
An original and different means of transport to discover the city. Barcelona has fully integrated cycle lanes and you can cycle through the city's open spaces and parks.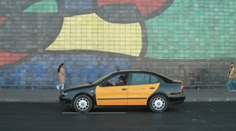 Getting around by taxi
There are 11,000 taxis in the city which can be easily identified by their yellow and black livery. A green light on the taxi roof indicates its availability.
4.- TOURIST INFORMATION POINTS
Barcelona has a number of tourist offices, located at strategic points around the city. Turisme de Barcelona is at your disposal wherever you are, and to offer products and tourism services designed to help you discover the city.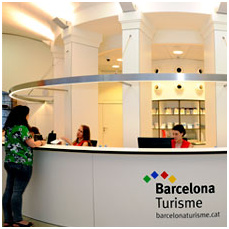 Plaça de Catalunya
Located in the heart of Barcelona, this information point has 700 m2 of dedicated floor space providing in different languages.
The office also provides:
Sale of gift items inspired by Barcelona – BCN Original Shop.
VAT refund – Global Blue Tax Free.
Contact details: Plaça de Catalunya, 17-S, Barcelona | Tel: +34 932 853 834
Times: daily, from 8.30am to 9pm. Closed: December 25th.
Plaça de Sant Jaume
Another of Turisme de Barcelona's tourist information points is located in the heart of the city's Gothic Quarter, on the ground floor of Barcelona's City Hall.
The office also provides: Sale of gift items inspired by Barcelona – BCN Original Shop.
Contact details: Ciutat, 2 (Ajuntament de Barcelona), Barcelona.
Times: monday to Friday, from 8.30am to 8.30pm. Saturday, from 9am to 7pm. Sunday and public holidays, from 9am to 2pm.
5.- ACCESIBLE BARCELONA
Welcome to Turisme de Barcelona's website for disabled people.
Museums adapted for the blind and partially sighted, hotels without barriers, accessible beaches and sign-language tours… are some of the options available. Whether you're a visitor or looking for accessible ways to discover your city, you've come to the right place. We invite you to navigate our wide choice of suggestions!
6.- MOBILE APPS
Put Barcelona in your pocket! A complete audio guide about Gaudí, all the information you'll need about public transport, the official guide to Barcelona, a selection of the city's top-quality restaurants… If you have an iPhone or an Android, visit this section and find tons of useful and interesting Barcelona-related mobile apps.
The "Official Guide to Barcelona"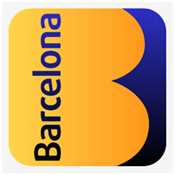 The Official Guide to Barcelona on your smartphone, another city idea to provide interactive tourist information, easily and rapidly. (Spanish and English edition).